Mi is az a Baracsy-Módszer?
Dsmile Body Balance Training is an effective training program, which combines postural exercises, breathing exercises, orofacial myotherapy, speech and language (voice) training.

There are several training options that you can select from. Most of the programs for children start with small group sessions, followed by one to one sessions if you need. There is also the option to complete the training one to one. For adults start one to one session or group sessions.

The program begins with an individual assessment that gives you a very comprehensive oral and written status report and posture screen test. Based on this evaluation you can start your Dsmile BB Training program.

At the end of the program you will be assessed again and a progress report will be given to you and to your doctor, or doctors who are involved in your treatment of your medical symptoms.

There are programs according to age and their are also specific programs for those who are unable to travel for regular sessions.
About the training

The Dynamic Smile - Dsmile / VoiceGym- Programme has been designed to enhance intrinsic swallowing, chewing and voice as well as individual breathing and posture. The essence of our method is to help the body structure restore its fundamental balance. The effectiveness of our training can bring a noticeable change within a relatively short period of time of three months.
The system works by integrating various pre-existing and established therapies, including but not limited to orthodontics, orofacial myotherapy, speech therapy and movement rehabilitation.
While developing our training program, it became clear to us that we could never solve our patient's orofacial or posture problems if we only focused on the position of the teeth or tongue. Its not advisable to build a house or tall buildings without secure foundations and the same should apply to our bodies!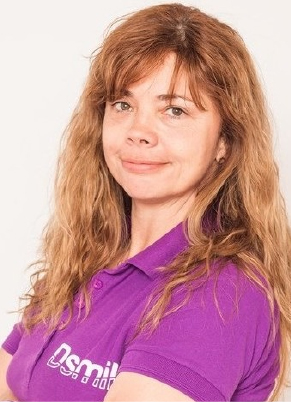 What will you experience?
The 90 day long basic program includes 10 group our one-to-one activities, and 2-4 individual sessions (if needed). The age groups are from 8-11, 12-14, 15-17 and adults. Patients are asked to take a preliminary assessment before they join a group or one-to-one session. The main symptoms of referral for rectification with Dsmile training are tongue thrust and mouth breathing, bad body posture. Temporomandibular joint disorders (TMJ), migraines or frequent headaches, upper and lower back pain, teeth grinding, snoring issues are also common especially in our adult groups. Attention disorders, learning difficulties, occasional hearing problems and allergies are the most representative symptoms amongst children.
Towards the end of the program, the issues identified at assessment can improve. The list of the program's positive effects include: improved general feeling and concentration, better mental capacity and stamina, less or no locomotor complaints. Poor breathing habits, skin problems, snoring and fatigability lessen or discontinue. Waking up at night, bloatedness and gastroenterological complaints become less frequent, a 'transformed' body shape and weight loss are also possible.
In addition to the above, dental problems, teeth deviations, tonsil and adenoid issues can also improve and correct. Jaw joint pains and clicks, snoring, allergies, neck-, back-, shoulder-, head-, spine- and ankle aches decrease or completely stop. All potential positive outcomes in just three months!
We provide the key, but you have to turn it in the lock!